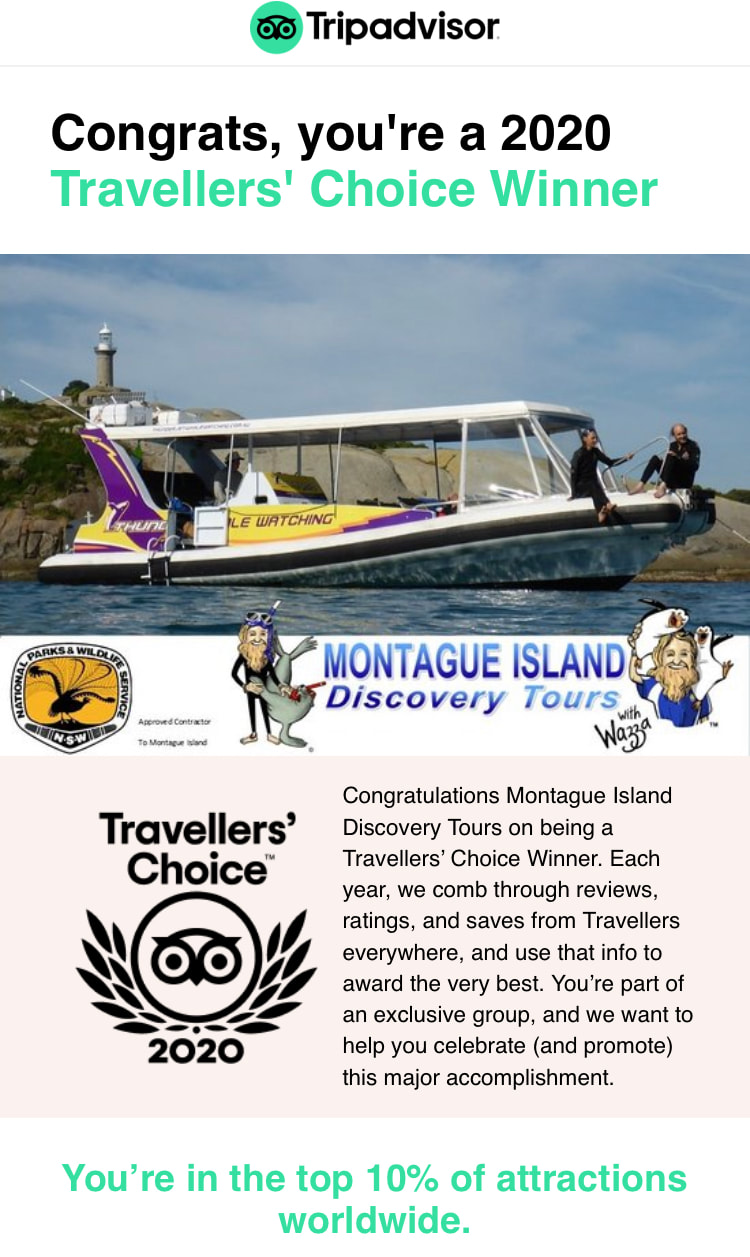 Apply Voucher Code Discover1

To receive $25 Discount per person, per voucher.
When booking please note NSW Dine & Discover Vouchers must be presented for scanning on the day of your tour

​

Please be advised that tours landing on Montague Island need to be booked before 5.00pm the day before as per National Parks rules.
​National Parks may restrict access to the Lighthouse due to Covid restrictions, this may change at sort notice.
Participants landing on Montague Island are minimum age of 5 years old.
​Participants landing on Montague Island need a fitness level to participate in the activity and be capable of climbing a ladder to disembark the vessel at Montague Islands Jetty.
We are currently running restricted numbers maintaining social distancing on all tours, spots fill up quickly we recommend booking in advance to avoid disappointment.

Crystal Clear Water and Playful Seals, bring on Summer with our Snorkelling & Diving with Seals guided by our friendly PADI Team!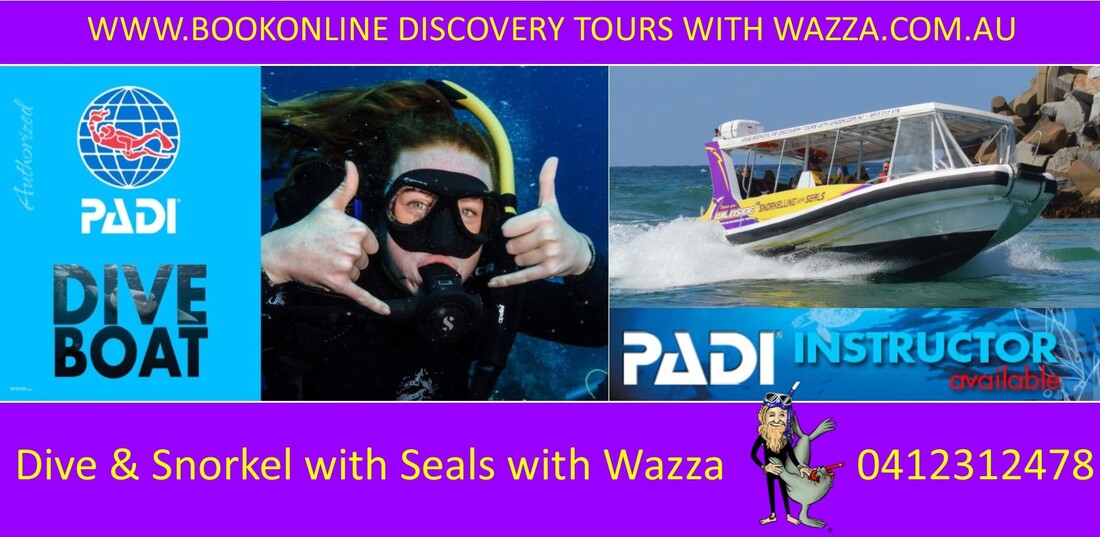 We are proud to be Number #1 on Tripadvisor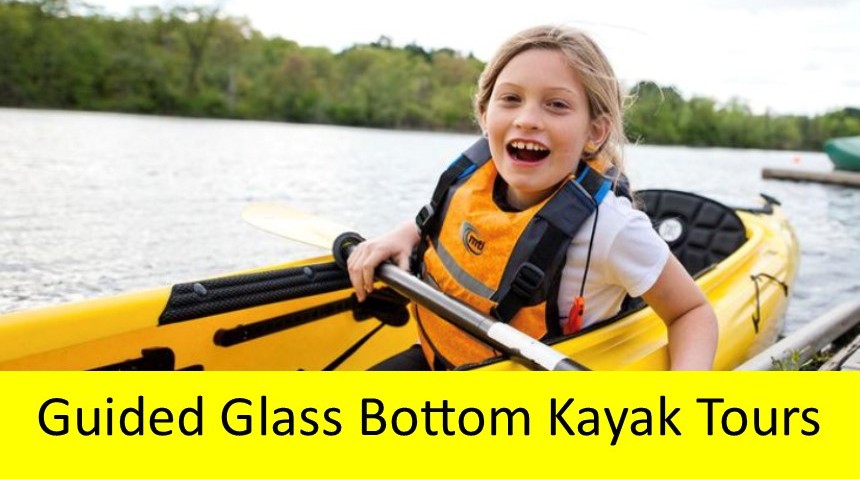 DIVE BOAT Narooma
Montague Island Discovery Tours with Wazza
Snorkelling with Seals Adventure aboard ECO1
We Guarantee Seals!
Join us on a Montague Island Discovery Tour and experience some of the most amazing wildlife encounters on the planet.
Montague Island is a Nature Reserve located just off the coast of Narooma on the NSW Far South Coast.
We supply Full Length 5mm & 3mm WETSUITS and Top Quality TUSA & MARES Snorkelling Gear
Our Awesome Team of Highly qualified Skippers, Eco Hosts,
PADI
Dive Masters, Scuba Instructors and Snorkelling Guides will take you on an Adventure of a Lifetime as you swim, snorkel or dive with our very playful and inquisitive Seals in the calm crystal clear waters of beautiful Montague Island.
Described many times as the most amazing experience ever... and rated by travellers to be their top Australian experience we are proud to offer a dedicated Snorkelling with Seals Adventure Vessel ECO 1.
Join our Awesome Snorkelling with Seals Team on a Snorkelling with Seals Adventure at Montague Island and see why we are Ranked Number 1 on Tripadvisor!
During spring and summer see Little Penguins on our Montague Island Penguin Sunset Tour.
Snorkelling with playful Seals in a pristine clear shallow bay at Montague Island is a truly uplifting experience and has been described as on
e of the top
wildlife encounters in the world.
​
BOOK SCUBA DIVING WITH SEALS
Diving with Seals at Montague Island.
Scuba Dive Montague Island for the most amazing interactive Seal Experience.
Join us for a Wildlife Adventure of a Lifetime at Narooma & Montague Island on the ultimate Montague Island Tour
​Narooma Whale Watching Season aboard ECO 1
We Guarantee Whales!
Join us on a Montague Island Discovery Tour and experience some of the most amazing wildlife encounters on the planet.
Montague Island is a Nature Reserve located just off the coast of Narooma on the NSW Far South Coast.
During spring Warm ocean currents bring pods of Humpback Whales close to shore making Narooma and Montague Island on of the best Whale Watching destinations in the world.
Discover your Wildside on our Whale Watching Adventure.
Majestic Humpback Whale Watching encounters, spectacular acrobatic displays or up close and personal with the gentle giants of the sea.
Large playful pods of dolphins will often escort our boat as they play in the bow wave.
If you have any questions about our tours just give us a call on

0412312478
Let Wazza and his friendly professional crew take you, your family and friends on an Amazing Wildlife Adventure of a Lifetime.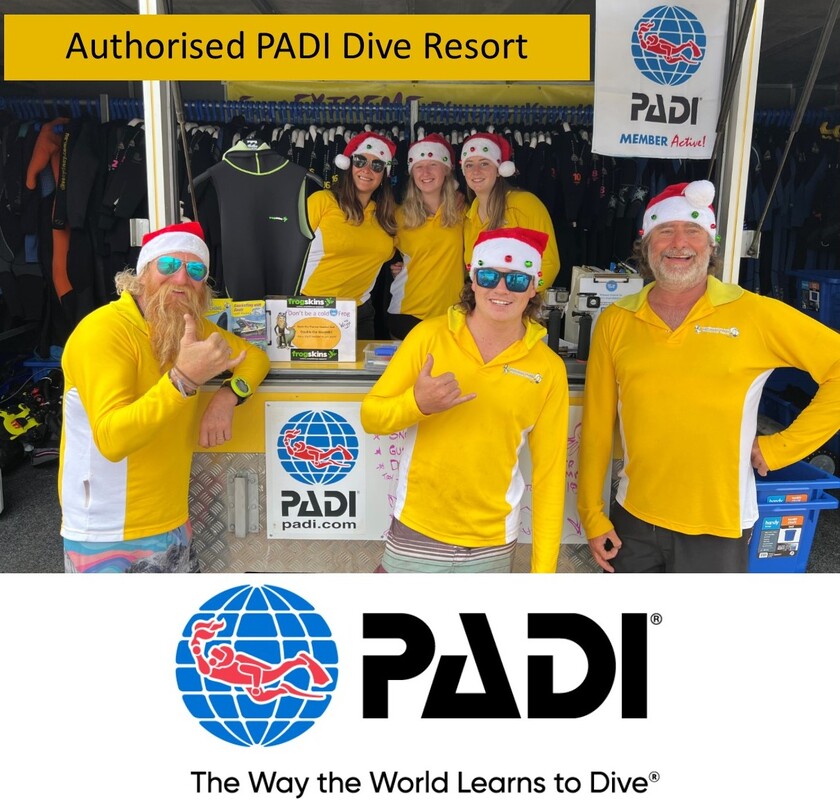 ​Calm Water Kayaking
Join our Guided Glass Bottom Kayak tour at Narooma as we explore the calm and beautiful Wagonga Inlet. Did you know that Narooma means "clear blue water" and the pristine sand spits and sea grass beds are home to an abundance of marine life both above and below the surface. There is no cooler way to see the local wildlife than on our Double Seat Glass Bottom Kayaks, join our friendly guides as you embark on a wildlife discovery tour.
Tours are suitable for all ages and are an easy tide assisted paddle and with the fully clear bottom of our Kayaks you definitely have the best seat on the coast. See an array of marine life including sting rays, crabs, octopus, seahorse, schools of fish and even seals!
Super comfortable seating and crystal clear viewing see under the water like never before!
​Join us for the coolest way to explore Narooma's pristine waterways a truly unique Eco Experience with Wazza

​
Montague Island Kayaking
For the more adventurous we offer a small group Guided clear bottom Kayak experience at Montague Island.
Your tour will begin with a 20 minute adventure boat ride to Montague Island located 9klm offshore from Narooma.
Join our Guided Kayak Tour and explore the pristine bays of Montague Island, the crystal clear waters are teeming with marine life and home to NSW largest colony of Australian & New Zealand Fur Seals.
This is a truly amazing experience, discover your Wildside with Wazza.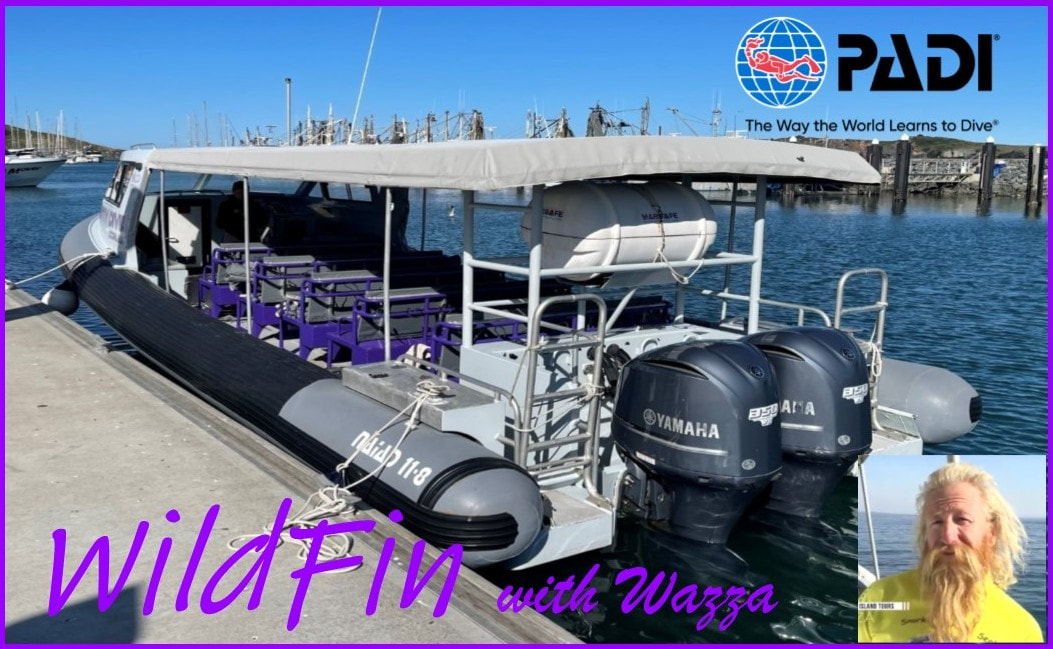 Our Awesome PADI Dive Boat! 12 Metre Naiad Rib
Big Fast and Comfortable Dry Ride
​Onboard toilet & Shower custom dive racks for up to 20 divers in small guided groups!
PADI Instructors and Dive Masters on every trip